MYE - 5 YEARS 1 JOURNEY
In 2014, Masan first launched the Masan Young Entrepreneur program (MYE) aiming to seek & invest in Vietnamese young talents. With the mission to awaken Vietnamese talent's potential and bring them a dreaming career kick-off, MYE was built as a 2-year-journey offering real business experience, training & coaching opportunities under the mentoring of Masan's industry experts and especially the clear & speedy career road map at one of the fastest business growing group in Vietnam
In 5 years, Masan Young Entrepreneur has attracted over 10,000 millennials from reputable universities, higher education organizations and institutions in Vietnam and oversea. With 64 MYEs have been selected, program has brought them into the journey of uncovering their unique potential, breaking limitation and hitting new height in their career road. To them, each day offers an exciting experience full of opportunities to learn, be creative in their daily works, to be shared and mentored from the top Masaners and especially to be challenged, be trusted to handle such crucial roles in Masan's new projects.
2018 is a memorable milestone with the very first MYEs in Masan's mining business – Masan Resource, Thai Nguyen province with 4 mining-MYEs who are energetic, smart and full of courage to conquer new challenges.
To mark the 5-year-journey, 5 MYE generations has gathered to cheer up the journey, share experience & empower the next generation with the purpose: good to great together. There is a says "a thousand miles begin with single steps" so we do believe that at Masan and with Masan Young Entrepreneur, you do have a steady kick-start to make confident steps to conquer a thousand miles in your career endeavor.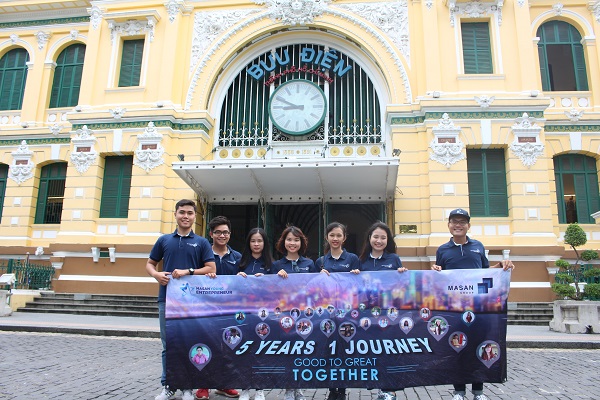 We are proud of our unique offer that Masan not offer you a job or a title but a fantastic opportunity to learn, to engage with real business and awaken your potential by working and mentoring by Masan's top talent leaders.